Rental Policies
Office hours are 9 am – 5 pm Monday thru Saturday.
Directions to Condo Vacations
Condo Vacations is located at 4023 Hwy 17 South in the city of North Myrtle Beach. Please do not confuse this with the northern end of Myrtle Beach. Traveling from Hwy 9 exit on Hwy 17 South. Travel on Hwy 17 South until you reach 41st avenue south, we are located in the Windy Hill Shopping Center. Traveling from Hwy 501 take Hwy 22 to North Myrtle Beach and exit on to Hwy 17 North. Travel on Hwy 17 North to 41st avenue south, we are located in the Windy Hill Shopping Center.
Check-in & Check-out
Reservations are normally Saturday-Saturday during the summer and some weeks during the spring and fall. Please inquire about other check-in days. Off-season there is a three (3) night minimum except for holidays. Check-in is after 3 pm. We can not guarantee a 3 pm check-in due to excessive cleaning needed, repairs and other unforeseen circumstances. Check-in at our office, not the condominium complex. Any arrivals after 5pm please follow late arrival instructions. Check-out is before 10 am. Please lock the unit and bring the keys back to Condo Vacations Office. After 10 am, there will be no exceptions! Late checkouts are subject to a $50.00 an hour fee. This amount will be charged to the credit card on file.
Late Arrival Instructions
You will still need to come to our office located at the Windy Hill Shopping center. On the right side of our door is a lock box. To open the box, turn the silver lever to the left and release. Then press in the code you have received from our receptionist. Turn the silver lever to the right, hold and open the door. Inside you will find an envelope with your name on it and inside will be directions to your unit. You will be provided with a code to the box after all monies are paid. This code will be at the bottom of the final confirmation.
Deposit
A deposit of $400.00 is due within 10 days of making the reservation unless it is less than 21 days to arrival, then the total amount is due. Upon receipt a confirmation will be sent with the balance due and date due, you will not receive another bill from us. Balance is due 21 days before you arrive Balance The balance is due at least 21 days prior to your arrival date. If we have a credit card number on file this will be charged automatically unless you call our office more than 30 days prior to your arrival to make other arrangements. Upon receipt you will receive your final confirmation.
Payments
We will gladly accept your personal check as long as we receive it more than 30 days prior to your arrival date. Otherwise we accept certified funds, Visa, MasterCard, and American Express. Returned checks will incur a $25 charge.
Cancellation Policy
Please notify us immediately of cancellation. There is a $200.00 cancellation fee if you cancel greater than 45 days prior to your arrival. If you cancel within the 45 days there will be no refund. Other Fees All reservations are subject to a cleaning fee, a $75.00 processing fee and a $50.00 inspection fee.
Responsibility
During your stay everything in the condo/house is your responsibility this includes the linens. If there is anything damaged (besides normal wear and tear), please notify us as soon as you check-in, otherwise you will be held responsible for the damage. To report damage after hours that are not an emergency please leave a voice mail message in our general mailbox or call the next business day.
Keys
Keys are to be picked up and dropped off at Condo Vacations Office only. For extra keys we require a $10 per key deposit at check-in. To receive this $10.00 back you must return the keys during office hours (9-5 Monday thru Saturday). We will not mail this deposit back to you. For security reasons and lock change expense, you will be charged for any lost or unreturned keys. Your credit card on file will be charged for the amount.
Parking
Motorcycles, trailers, campers, boats, jet skis, etc. are not allowed on many of the rental properties. Parking is limited to two (2) cars at some locations.
Linens and Maid Service
All of the linens (bed and bath) are provided. There will be enough towels and wash cloths in the unit for the maximum occupancy only. No additional linens will be provided. Departure maid service is included, we ask that you take out your trash and clean your dishes before leaving.
Maintenance
Please keep in mind service calls are billed to the owner, any unwarranted service calls will be charged to the guest. In order to keep the units in good condition some preventative maintenance (i.e. filters, pest control, etc.), repairs and guest requested maintenance is required which will require periodic access to the unit and may be necessary during your stay. We can not guarantee any appliance. We will do our best to have any repairs done expeditiously. There will be no refunds due to any maintenance.
Hurricane Evacuation
Refunds issued only if Governor of the State of South Carolina issues a mandatory evacuation. There will be no refunds on voluntary evacuations.
Accommodations
Units are strictly limited to number shown on front of confirmation regardless of beds available. The only exception is an infant to occupy a crib. We cannot guarantee the comfort of sleeper sofas and suggest they be used for children only. We cannot guarantee any particular unit. In the event of an emergency, removal from our rental program or other unforeseen circumstances Condo Vacations reserves the right to change your accommodations to an equal or greater value unit. There can be no additions to existing furnishings or equipment. Please do not rearrange the furniture. You are renting a privately owned home. It has been decorated and equipped to satisfy the particular taste and desires of the owner. Each unit will be equipped with the basic needs for a pleasant vacation. We will not provide another property or refund if you decide the property doesn't meet your standards after taking possession.
Phone and Mail
All local calls are free. Any long distance calls will need to be made with a calling card or credit card. Need to receive mail? Simply have it sent to you c/o Condo Vacations 4023 Hwy 17S, North Myrtle Beach, SC 29582
Construction
North Myrtle Beach is growing! Which means better accommodations and better roads? Refunds or rate adjustments are not made for any inconvenience due to construction, road repair, etc.
Lock-Out
If you are locked out during business hours, please come by our office for another key. Otherwise, after hours you will need to contact our emergency number (843) 946-1913. If locks need to be changed you are responsible for the amount due.
What is not allowed
No pets, house-parties, group rentals – which includes high school, college, or other non-family groups. We rent to families, married couples and individuals 25 years and older. Any violation will result in eviction and all rents forfeited.
What you'll need to bring
Beach accessories, paper products, hair dryer and any other personal item you may need. There will be a starter kit in the unit for you with toilet tissue, bar soap, 1 packet of dishwasher soap, 1 packet of laundry soap, and garbage bags. After those are gone you will need to purchase your own.
Units for Sale
In some cases vacation condos/homes are listed for sale. In the event that a real estate agent would like to show the unit you are in, we will contact you during your stay. We appreciate your cooperation in this matter.
Miscellaneous
Condo Vacations reserves the right to refuse service to anyone and is not liable for any loss of personal items, valuables, damage or injury. Failure to comply with the Rules & Regulations can result in being asked to vacate the property with no refunds.
Confirmation
Your order will be confirmed by mail.
Disclaimer
Condo Vacations makes every effort to insure that the information provided on this website is correct. However the possibility of errors and/or omissions exists and we reserve the right to correct such errors. Prices are subject to change.
Atlantic Breeze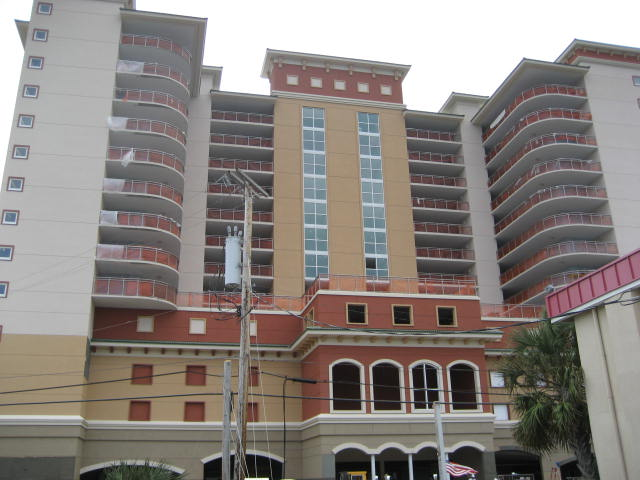 The all new Atlantic Breeze Resort is open for 2008
Oceanfront Special
Book now for Summer 09
New Oceanfront 2, 3, and 4 Bedrooms!
Book now! Going Fast!
CALL TODAY: 1-800-845-0631
Interactive Map
Use our map and driving directions to help plot the perfect location for that next getaway!
Special Offers
Join our mailing list to receive special seasonal offers and information.